Type 1 Pantograph Arm, Adjustable from 26.6 to 31.1″ for Blades from 11.8 to 31.5″, with new "fold-back" feature.  To set arms to 650mm the arms need to be cut off by 25mm.
This wiper arm is compatible with the following wiper system:

Features:
All 316 stainless steel components with brass attachment heads

All arms include adjustable spring mechanism in drive gallery

Arms can be folded back during boat cleaning

Styled gallery covers for clean appearance

Low-glare black polyester epoxy coating over sandblasted stainless steel surface for durable finish

Accept Type 1 blades to 31½" (800mm)

Two different optional washing jets available

Optional tubing retainer strip holds tubing to the arm.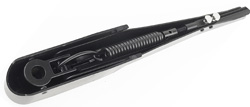 Detail showing adjustable spring

Detail showing folding
gallery covers
Specifications:
For Motors

223BS, 223BD, 235KK, 235KKHD

Min Arm Length

26.6″ (675mm)

Max Arm Length

31.1″ (790mm)

Washing Jet Options

EX2184 or EX2110

Accepts Blades

EX2171-EX2179, EX2195, EX2196

Accepts Heavy Duty Blades

EX216120-EX216124

Tubing Retainer Strip

EX2133.03

Dimensions

2.50″(Width), 2.20″(Height), 27.50″(Length)

Replacement Gallery Cover

EX2105.048

Approximate Ship Weight (lbs)

2